The Knights' Inn is a restaurant styled as an old tavern located on the historic
Grunwald Fields
.
The restaurant has two rooms – the
Restaurant Room
(Knights' Room) and the
Art Gallery
of the Knights' Inn.
The interior of the Knights' Room is decorated in the Old Polish style – a fireplace, a stone bar, stylized coats of arms of knights on the walls, swords, axes, spears and halberds, and other elements of the weaponry of the knights of the Battle of Grunwald 1410. The whole austere, ascetic climate is complemented by lighting: huge medieval chandeliers and wall-mounted torches.
The Art Gallery of the Knights' Inn is a restaurant and exhibition venue whose interior is arranged by the exhibitions of the Warmia and Mazury Art Foundation. It is also a perfect place for various types of conferences, banquets and cultural events.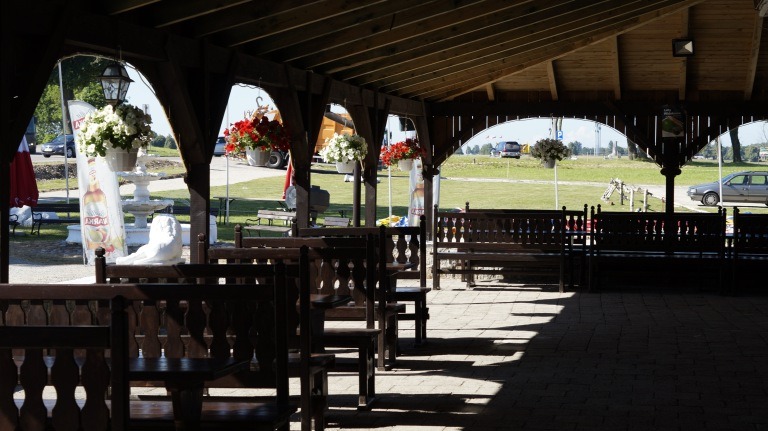 Both rooms, connected to one another, have
separate exits to a huge (800 m2) terrace
covered with a
stylized medieval roof
, under the arcades of which you can taste the
delicious outdoor kitchen
as well as also enjoy the
view of the historic Grunwald Field
.
Each of the rooms can accommodate 100 people, in the conference layout 120, in the concert layout 300. Additionally, 100 guests can be accommodated on the terrace of the Knights' Inn. We have multimedia and audiovisual equipment.
The
menu
features mainly
Polish dishes
with
regional accents of Warmia and Mazury
cuisine.
In addition to catering activities, we organize occasional parties such as New Year and carnival balls, weddings, disco parties, First Communion and birthday parties, lunches after the funeral, lunches for trips, banquets, conferences, sports and cultural events.
The Inn provides also accommodation.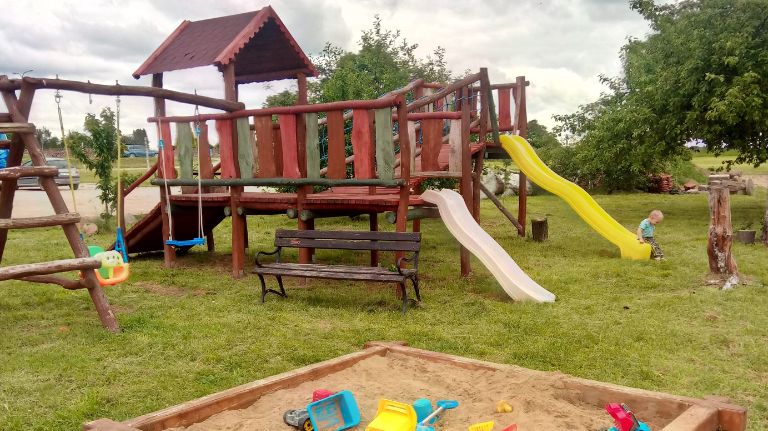 For our youngest guests, we have prepared a special children's corner, where pencils, blocks and puzzles await. Of course, for your little ones we have prepared a separate menu as well as we took care of their physical entertainment in the form of a playground with a sandbox and a huge trampoline.
Visit us!
Knights' Inn
Knights' Inn
Stębark 43
14-107 Gierzwałd